2009 Okie Blog Awards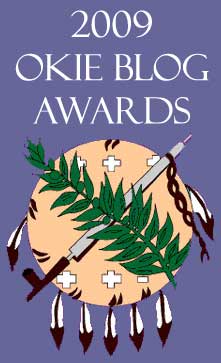 The Okie Blog Awards celebrates its fifth year in recognizing and honoring the excellence and diversity of bloggers within Oklahoma through popular nominating and voting. The awards were established by and for Oklahoma bloggers exclusively.

On Dec. 30, 2009, bloggers began nominating their favorite blogs in each of 24 categories. In those categories with more than 10 blogs being nominated, the ten blogs receiving the most nominations made the final nomination list.

Between Feb. 8 and Feb. 14, 2010, more than 2,000 votes were submitted by qualified Okie bloggers which resulted in the following blogs deemed the best in Oklahoma during 2009.

Congratulations to the winners, and also to all the blogs making the final nomination list.





Lifetime Achievement


The Pioneer Woman



Best Overall Blog


The Art of Manliness
Runner Up: The Lost Ogle



Best Arts/Crafts Blog


Design Crush
Runner Up: Greedy Girl



Best Audio/Podcast Blog


Blog Oklahoma
Runner Up: Goodbye Tulsa



Best Business-Related Blog


Small Biz Survival
Runner Up: Blogging4Jobs



Best Culture Blog


Tasha Does Tulsa
Runner Up: Oklahoma Rock



Best Blog Design


Erin Conrad Photography
Runner Up: Ad Brad



Best Family Blog


918 Coupon Queen
Runner Up: Rocks in My Dryer



Best Food Blog


Tulsa Food Blog
Runner Up: FoodDude



Most Humorous Blog


The Lost Ogle
Runner Up: Irritated Tulsan



Most Inspirational Blog


Life is Real (posthumous)
Runner Up: Napkin Dad



Best Kept Secret


Jeremy and Kathleen
Runner Up: Book End Babes



Best New Blog of 2009


Okie Creative
Runner Up: Carless in Tulsa



Best Oklahoma City Blog


The Lost Ogle
Runner Up: Oklahoma Women



Best Photography Blog


Zach Nash Photography
Runner Up: From the Faraway Nearby



Best Political Blog (Conservative)


BatesLine
Runner Up: McCarville Report



Best Political Blog (Liberal)


Okie Funk
Runner Up: Alternative Tulsa



Best Representation of Oklahoma


The Pioneer Woman
Runner Up: OKC Central



Best Rural Blog


The Redneck Diva
Runner Up: Brit Gal in the USA



Best Single Topic Blog


Bookgasm
Runner Up: Red Dirt Rambling



Best Tech Blog


Blogging Basics 101
Runner Up: STF PR New Media Now



Best Tulsa Blog


Tasha Does Tulsa
Runner Up: Irritated Tulsan



Best Veteran Blogger (5+Years)


Dustbury
Runner Up: Static Blog



Best Writing


Coffee with Clark
Runner Up: Okay City


This year marks the first time an Oklahoma blogger has been honored with a lifetime achievement award. Based on her enormous success as a blogger, and the positive image of Oklahoma she presents to the rest of the world, the final determination panel decided to honor Ree Drummond, aka The Pioneer Woman, with the award.

In addition, this year is the first time a blogger has been recognized posthumously. Jim Chastain, whose blog, Life is Real via newsok.com inspired hundreds of Oklahomans with his fight against cancer. Although he lost that battle just two short months ago, his words live on.

This year's awards were coordinated by Jennifer James, an Oklahoma City public relations practitioner and writer who blogs about Generation X.
Members of the final determination panel included Mike Hermes, founder of the Okie Blog Awards; Louisa McCune-Elmore, editor, Oklahoma Today; Mike Koehler, new media director, Schnake Turnbo Frank PR and John G. Johnson, J.D., executive director, Association of Central Oklahoma Governments.


Revisit the entire process at the Official 2009 Okie Blog Award blog.

Thank you for supporting the Oklahoma blogging community.
---
© The Okie Blog Awards is the property of Okiedoke.com. All rights reserved.