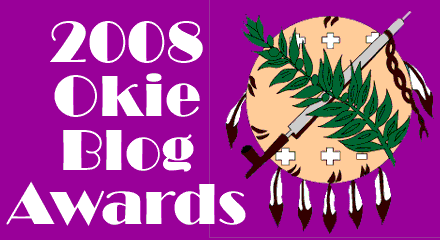 The Okie Blog Awards celebrates its fourth year in recognizing and honoring the excellence and diversity of bloggers within Oklahoma through popular nominating and voting. The awards were established by, and are decided by and for, Oklahoma bloggers exclusively.
On Jan. 2, 2009, bloggers began nominating their favorite blogs in each of 12 categories. In those categories with more than 10 blogs being nominated, the ten blogs receiving the most nominations made the final nomination list.
From Jan. 21 through Feb. 7, more than 1,000 votes were submitted by qualified Okie bloggers which resulted in the following blogs deemed the best in Oklahoma during 2008.
Congratulations to the winners, and also to all the blogs making the final nomination list.
The winning blogger in each category is welcome to copy and use the accompanying Okie Blog Award graphic on their blog and adjust the size as they see fit.
You are encouraged to also include a link from the graphic to this page.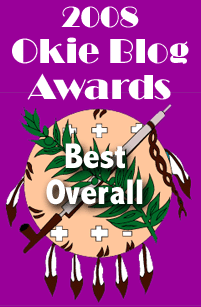 Best Overall Blog
Confessions of a Pioneer Woman
City girl Ree plows through country life
one calf nut at a time.

Runner-up, The Lost Ogle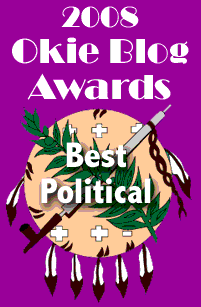 Best Political Blog
BatesLine
Michael Bates is a MVP
in the game of Tulsa politics.

Runner-up, Peace Arena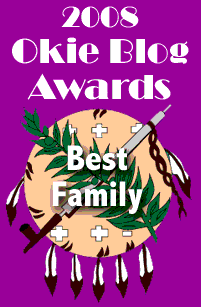 Best Family Blog
Dawn's Diversions
Bloggers get a rise from Dawn.

Runner-up, Rocks in my Dryer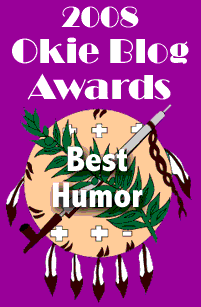 Best Humor Blog
Decisionally Challenged
Georgie loves ♥ ♥ ♥,
and bloggers ♥ to laugh.

Runner-up, The Lost Ogle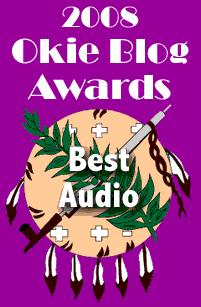 Best Audio Blog
The Daily Bitch
Monty tops the Okie blog charts yet again.

Runner-up, Blog Oklahoma Podcast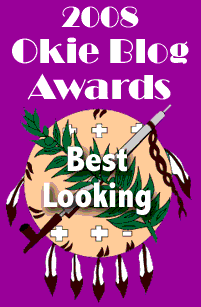 Best Looking Blog
Confessions of a Pioneer Woman
Ree keeps up appearances
on the Oklahoma prairie.

Runner-up, Design Crush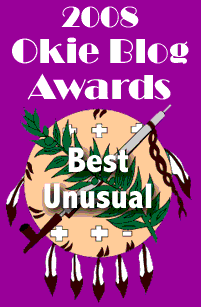 Best Unusual Blog
That's Baloney!
And Okies think it's very tasty!


Runner-up, Strange State Paranormal Mysteries in Oklahoma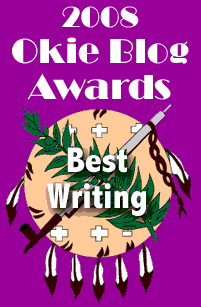 Best Writing Blog
Rocks in my Dryer
Shannon says it
the way folks want to hear it.

Runner-up, JenX67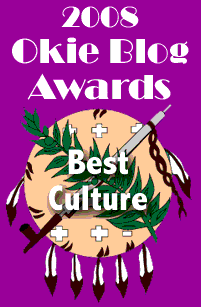 Best Culture Blog
Tasha Does Tulsa
And she does it well for two years in a row.

Runner-up, Yogi's Den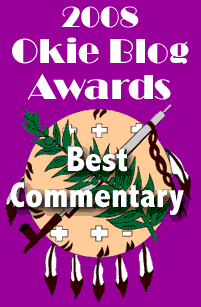 Best Commentary Blog
Today in Idabel Oklahoma
Four women, four times the fun.

Runner-up, But I digress...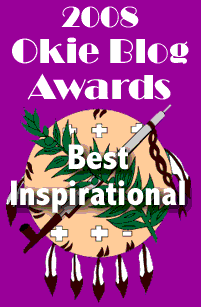 Best Inspirational Blog
6 Happy Hearts
Oklahomans get happy thoughts
from this blog with heart.

Runner-up, Animal Rescue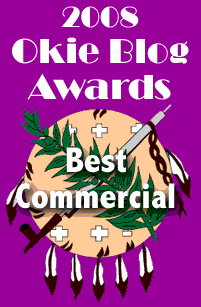 Best Commercial Blog
Turtle Rock Farm
Slow and steady
wins the race.

Runner-up, DoubleShot Coffee Company




_______________

All decisions regarding the Okie Blog Awards are made by Okiedoke, and are final.


Thank you for supporting the Oklahoma blogging community.

In solidarity,
Mike Hermes
Okiedoke.com


---
© The Okie Blog Awards is the property of Okiedoke.com. All rights reserved.