2005 Okie Blog Awards
The first ever Okie Blog Awards were established by, and decided by and for, Oklahoma bloggers exclusively. They are intended for our blogging peers to recognize and honor the excellence of diversity by bloggers within the state through popular nominating and voting.

On Aug. 5, 2005, Oklahoma bloggers began nominating their favorite blogs in each of 11 categories. In those categories with more than 10 blogs being nominated, the ten blogs receiving the most nominations made the final nomination list. The result was 56 different blogs being nominated for consideration as the best blogs among their fellow bloggers.

Voting began Aug. 20, and over the next two weeks, 53 active Okie bloggers submited ballots with a total of 411 votes in order to identify Oklahoma's best within the blogging community. The blogs listed below were judged to be the best of the best as determined by their blogging peers.

Congratulations to the winners and also to all the blogs making the final nomination list.
And thanks to everyone who helped make the 2005 Okie Blog Awards a success.

In solidarity,
Mike Hermes
Okiedoke.com

The winning blogger in each category is welcome to copy and use the accompanying Okie Blog Award graphic on their blog and adjust the size as they see fit. However, please do not hotlink from Okiedoke.com to post the graphic on your site.
You are encouraged to also include a link from the graphic to this page.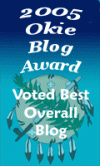 Best Overall Blog
Cutting to the Chase
Chase McInerney provides wide appeal
with his style and wit.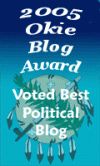 Best Political Blog
BatesLine
Michael Bates successfully mixes
morality and Tulsa politics.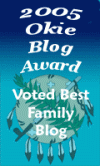 Best Family Blog
Sleeping Mommy
Sleeping Mommy sees family life
through rose colored eyeballs.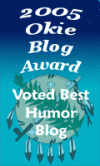 Best Humor Blog
The Daily Bitch
aka_Monty observes life
with tequila, salt, and pepper.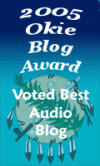 Best Audio Blog
iROK Radio
Paul Deppeler rocks the plains world
with independent Oklahoma music.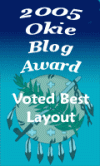 Best Blog Layout
Fistful of Fortnights Previous
Fashionable Sadie stays in style
by redecorating often.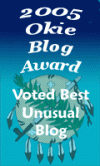 Best Unusual Blog
Tom Coburn is a Big Fat Jerk
If the blog's title doesn't convince you,
Cookie's barking moonbat ways will.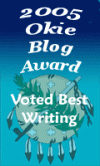 Best Writing Blog
dustbury.com
Blogging veteran Charles G. Hill is
profuse with his profundity.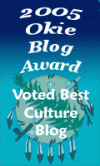 Best Culture Blog
Reflections in d minor
Just as willing to cover music or politics,
Lynn has a talent for bringing art to life.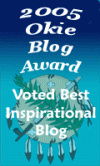 Best Inspirational Blog
An Audience of One
With an obvious compassion for people,
Brian moves his readers with his words.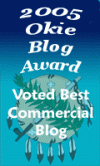 Best Commercial Blog
Oklahoma Wine News
Okie bloggers who like wine,
like Oklahoma Wine News.




_______________

Awards: All decisions regarding the Okie Blog Awards are made by Okiedoke, and are final.



---
The Okie Blog Awards is the property of Okiedoke.com. All rights reserved.