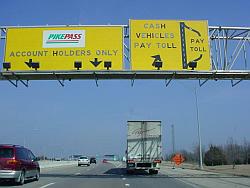 Uh …
The Oklahoma Turnpike Authority will stop issuing automatic violations for failure to pay tolls until the agency can match its records with Tax Commission records new license plate numbers.
Wouldn't it make sense to just suspend automatic violations without announcing it? It's kind of like Wal-Mart publicizing that they have turned off their security systems.
And don't blame the "Oklahoma License Plate Design Task Force".
The members of the task force are:

Senator Clark Jolley, Co-Chair
Representative Ken Miller, Co-Chair
Senator Charles Wyrick
Representative Randy Terrill
Ms. Andrea Collum
Ms. Staci Foresee

The task force was supported administratively by the staff of the State Senate with assistance from the Tax Commission, the Department of Public Safety and the Department of Tourism and Recreation.
After all, they only had since Nov. 6, 2007 to think about this.