Estonia Oklahoma
November 29th, 2008
A recent blog post of mine made in jest…
Such language in an Oklahoma blog
November 22nd, 2008

I don't understand what some folks dare to say about our new President-elect. Take Jaanus, writing in his blog "Oklahoma".

Baracki-karisma

Honestly, I just don't get it!
… has now put me on a quest. But I need help.
The quest began when I read this comment left by a passionate fellow Okie at the blog referred:
Hello, from Southeast Oklahoma here, jackass.

Why don't you have the intellectual courage to name your bloggie something like "Fin", or "Barks like A Dog"?

Do you even know what the word "Oklahoma" means in my Native, Choctaw language, little man?
I have something else to say about your blog too, to Google…
It sounded a bit harsh to me and I didn't understand why. Probably because I can't figure out a way to translate Estonian to English for free online.
Adding to my interest was Jaanus's response:
Yakokí,
my friend!
And then later, a lengthy blog post: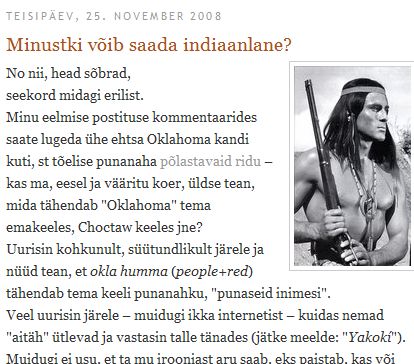 I can't help it, it's bugging me! I want to read it. So, since Jaanus responded to one comment left in English, I left one asking if he could assist in the translation for me. He has neither respond nor approved the comment. Perhaps Jaanus is native to Estonia and therefore identifies with plight of Native Americans, and after visiting Okiedoke, realized I ain't no redman, but a guy with the genes of white European bullies.
Estonia's struggles for independence during the twentieth century were in large part a reaction to nearly 700 years of foreign rule.
–
The oldest known settlement in Estonia is the Pulli settlement, which was located on the banks of the river Pärnu, near the town of Sindi, in southern Estonia. According to radiocarbon dating, it was settled around 11,000 years ago, at the beginning of the 9th millennium BC.
Anyway, what I wanted to say is: Anybody out there speak Estonian?