Distractions from blogging
August 19th, 2008
Research and negotiate oil and mineral lease.
– 3/16 royalty and cash bonus or the straight 1/4?
Sue your neighbors.
– They started it.
Watching the Olympics using the DVR.
– Even the wussy type of handball as opposed to the the real kind.
Collecting firewood for winter.
– Ronald Reagan style.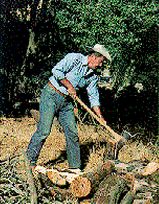 Thin out squirrels.
– Hey, it's been a couple years. (Squirrels I do like)
Perform auto maintenance.
– Finally cool enough to hold a wrench.
Consider rebalancing 401k
– Stick with my YTD results of -2.3% or take suggestions from fund advisor with YTD performance of about -7%. Or apply for job as trusted investment advisor.