Okies to Brits: don't take 'English Only' literally
May 30th, 2008
It seems to me that Oklahoma is seeing a little too many Englishmen migrating to our great state. I suspect it has a lot to do with the push for an English Only law. But that's only part of the reason. Limeys like Marc Lee of The Telegraph are also glamorizing our image.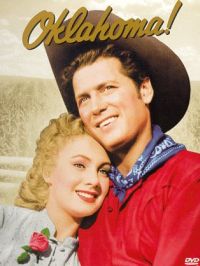 Try getting the title song of Oklahoma! out of your head once you've heard it.

Then listen to Oh, What a Beautiful Mornin' – another song from the film – and you'll believe it's true, even as you trudge through the sort of damp May mornings that much of Britain has endured this week.
–
Add to this mix of humour, intrigue and song some riotous dance routines, a balletic dream sequence, and some gorgeous big-country locations on the rolling prairies, and what have you got? "Oklahoma – OK!"
No wonder folks in England believe it's a paradise here. They think us Okies do nothing but dance, sing, and ride fringed surreys through the countryside with our honey-lambs. But the truth is: the last thing we need is more Okies with funny accents, bad teeth, and poor spelling, e.g. humour.