Fueling the Obama campaign
April 29th, 2008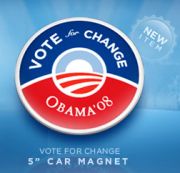 The Obama campaign has missed a big opportunity with their latest offer:
Make a donation of $15 or more before midnight on Wednesday, April 30th, and receive a limited edition Vote for Change car magnet.
The mistake made by the Obama campaign is that they show an image of the magnet on the back of a car. Bad move. Not only can a magnet be easily removed by zealous supporters of John McCain, Hillary Clinton, and Ron Paul, but the weight of a magnet only reduces the vehicle's gas mileage in these times of sky-rocketing fuel costs. A better option would be to wrap an Obama HOPE magnet around the fuel line.*
With a magnetic field we can increase the internal energy of the fuel, to cause specific changes at a molecular level. Increasing the internal energy to obtain more easier combustion. The molecules fly apart easier, join with oxygen easier and ignite easier. 'Ionization' implies that the fuel acquires a 'charge' and molecules of like charge repel each other, this makes fuel dispersal more efficient. Then if you charge the air to the opposite polarity, then the fuel and oxygen combine far quicker than 'normal'. We can obtain about:

80% -90% Reduction in Hydrocarbon emissions.
60% -80% Reduction in Carbon Monoxide emissions.
20% Reduction in Nitrogen Oxides.
10% – 40% in Consume Reduction.
8% – 60% in Increase Mileage.
And of course a bumper sticker should be included with each magnet: