What happened to Dick?
February 27th, 2008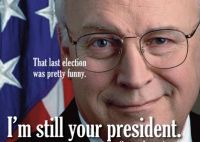 Hey, I just thought of something… why didn't Vice President Cheney run for President? It would seem an experienced, two-term VP neoconservative like Cheney would be an obvious choice to head the GOP ticket. Did Republicans forget to ask him or what?
He is still alive isn't he?