Inside the Okie Blog Awards
September 27th, 2007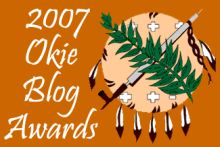 Votes for the 3rd Annual Okie Blog Awards have been tabulated and the results safely encrypted, awaiting official announcement at the Okie Blogger Round-up in Tulsa October 6.
Dissecting the OBAs
The Okie Blog Awards were created for the purpose of showcasing well-known and lesser-known Oklahoma blogs, and this year's Awards were again well received with more blogs being nominated than ever. Thirty-six blogs made the final nomination list for the first time. To date, the 2007 Okie Blog Awards website has received more than 2,000 page views, hopefully opening up many Oklahoma blogs to new visitors.
Yet, not everyone was happy. It should surprise no one that most complaints had to do with politics.
2 okiefunks and no Mark Shannon. This 'contest' is trivial and meaningless!
And one Okie blogger lamented:
The Okie blog awards are conducted by liberals, dominated by liberals and (shocking) won by liberals.

Unfortunately all of the "awards" in the world won't make their lies into truth or their hatred into votes for Democrats. But it does make them feel important and authoritative.

Small fish in an even smaller pond… or in this case, glass bowl.
Those weren't the only complaints. I also received a few suggestions to change some Award categories and/or add to them. One of the suggesters thought the Best Political Blog category should consist of two sub-categories of Best Right and Best Left. While I kind of like the idea, my own sympathies lie toward more non-partisan political blogs, so a third, moderate/non-partisan sub-category would then be in order. Being a simple guy, I thought better of it. However, I have decided to also announce the runner-up blog in each category this year. One reason being that the top two finishers under Best Political Blog have always consisted of both a conservative and liberal blog. Another reason is the slight differences in votes received by the top finishers in many categories. (I had to break a tie in one category.)
Since there are no secret ballots, I avoid revealing too much detail about the results. The method of voting by email proves to be a successful way to prevent ballot stuffing and unqualified voters. Only four ballots (out of 97) were disqualified this year. It should be noted that very few votes came from bloggers using software other than Blogger, WordPress, or Movable Type.
Not all ballots contained votes in every category. Of the approximately 700 votes, the most popular categories for voting were Best Overall and Best Family blogs. Gender of voters was equally divided. (I'm not sure about political persuasion.)
While I do my best to protect the integrity of the Okie Blog Awards, the objective is to have fun while strengthening the Oklahoma blogosphere for liberals, conservatives, and non-partisans alike.
Happy blogging and thanks for your support.