Bibleless Pioneer Woman beaten badly
April 30th, 2007
Okies have put in their two cents on the Oklahoma commemorative two-bit coin.
As the result of a statewide vote, Governor Brad Henry announced today that Oklahoma's commemorative quarter will feature the state bird and state wildflower: the scissor-tailed flycatcher and the Indian blanket (Gaillardia pulchella).
It wasn't even close for the Pioneer Women.
The final vote tallies are as follows:

#2 – 76,643
#3 – 19,740
#4 – 18,976
#1 – 17,784
#5 – 15,023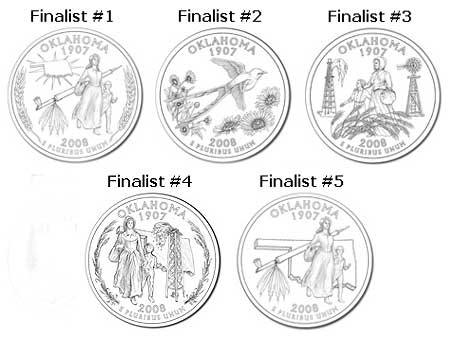 United Press International sure got it wrong:
Oklahomans want Bible on their quarter

The symbol known as the Pioneer Woman will probably be featured on Oklahoma's state quarter but she may not be carrying her trademark Bible.
–
But, some Oklahomans, including Gov. Brad Henry, want the Pioneer Woman to be holding her Bible on the quarter.

A spokesman said that if a Pioneer Woman design is selected then Henry "will be in touch" with the U.S. Mint requesting the Bible be placed in her right hand as depicted in the 17-foot bronze statue in Ponca City, Okla.
Advantage – Henry. He gets credit for wanting the Bible, but without the hassle.
But this can't be good for Hillary. Four woman candidates out of five, and they still lose.